Wed Mar 4, 2020, 11:12 AM
Member

Join Date: Jul 2015

Location: King City, Ontario, Canada

Posts: 116
Bone marrow Failure Awareness Week March 1-7, 2020
---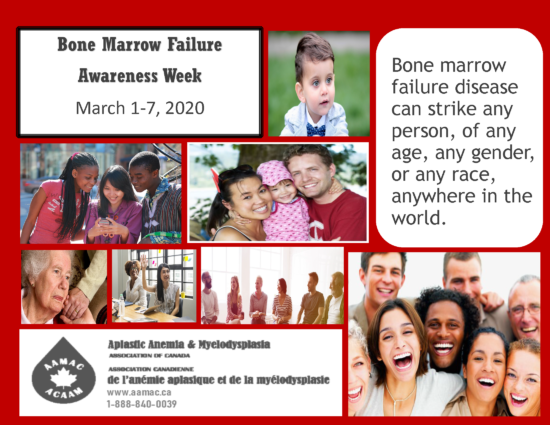 What You Can Do for Awareness Week:
Educate others on bone marrow failure disease. Here are some easy things you can do to teach others about bone marrow failure disease.

Educate yourself about each specific disease (Aplastic Anemia, Myelodysplastic Syndromes (MDS), Paroxysmal Nocturnal Hemoglobinuria (PNH)) on our website so you learn more about what you can tell others.
Tell at least one new person each day about your disease and what it is.
Tell people about AAMAC. Direct them to our website for Newsletters and Brochures (which are available to order).
Use social media to educate others by posting facts and information on Facebook, Twitter, Instagram or blogs.

Participate in a bone marrow/blood drive. Donate blood and platelets for transfusions. If you are able, register to donate stem cells through Canadian Blood Services or Héma- Québec.
Celebrate your or your loved one's survival story. Share your journey.
Commemorate and remember loved ones lost. Honor this memory by telling their story.
Make a donation in your or your loved one's honour or memory or purchase a leaf for the AAMAC Tree of Life. To purchase a leaf, please contact the National office at 1 (888) 840-0039 or email info@aama.ca.
__________________
Aplastic Anemia & Myelodysplasia Assoc of Canada
www.aamac.ca
1-888-840-0039