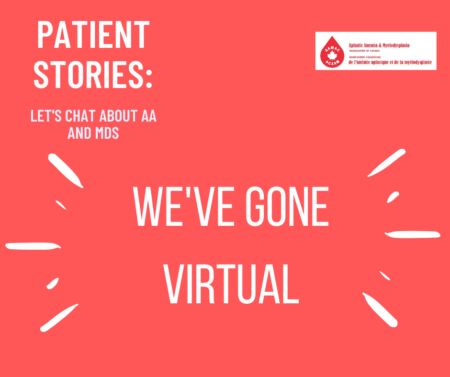 LIVE EVENT
Join Aplastic Anemia & Myelodysplasia Association of Canada for a live event where you will hear 3 patient stories; how they were diagnosed, what their treatment journey has been, their challenges and successes as well as how they have been coping during the Covid-19 epidemic. This will be a live, interactive event where you will be able to see our patient speakers, ask them questions and share your own personal story.
JUNE 17TH 2020
7PM (EASTERN TIME)
Because of Covid-19, we have not been able to hold our in-person patient support meetings. If you are feeling like you would like to connect with other patients, we hope that you will join us for this live event.
Feeling camera shy? Thatís okay! Sharing your computer/phone camera for the event is completely optional. There is a also an option to call in to the meeting.
TO REGISTER OR FOR MORE INFORMATION
Patients, caregivers and health care professionals are welcome to join.